Did you know you could follow your favorite Ranger(s) or fellow Bear Fans on ExploreOrg's Disqus comments board? Are you tired of asking everyone else what the Rangers have been saying?
It's not hard to follow someone on Disqus. You find their profile page and use the big Blue Follow button. Here are some profile pages of people you might like to follow:
Ranger Jeanne http://disqus.com/ranger_j/ Ranger Mike http://disqus.com/Ranger_Mike/ Ranger Roy http://disqus.com/disqus_uUYNU... Explore.org http://disqus.com/exploreorg/
You can also find a Blue Follow button by hovering your mouse over a Disqus member's Avatar.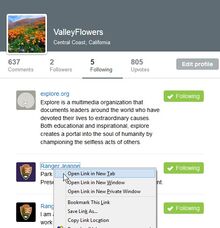 Find the list of person's you're following by visiting your own Disqus Profile. (Hint: You probably want to right mouse click & open the link in a new tab)
From your profile click on the Following link to see the persons you follow.
To read their latest comments click on their link (right click - open in another tab)